What is the secret of your business's success?
People are all too familiar with the cliché tips these successful e-commerce leaders give each time such as waking up at four in the morning, working till the dead of night, be ready for losses, among other not-so-new, often-unrewarding bits of advice.
What they should be saying is that success in business today is fueled by efficiency. Enterprises that have learned this can achieve more with way less effort. So, how can companies become more efficient? Marketing automation is one of the ways enterprises can quickly upscale and earn better ROI without much hassle. As such, marketers are increasingly leveraging the power of marketing automation services like SendPulse to reap these and more benefits.
Founded in 2015, SendPulse is a leading email marketing service provider that has revolutionized the way businesses communicate with their customers. With its headquarters in Ukraine, the company also has offices and representatives in the U.S., Brazil, Mexico, and Nigeria. Boasting an international team of 180 employees, SendPulse has emerged as a prominent player in the marketing automation industry. On September 1, 2022, SendPulse celebrated a significant milestone, reaching 1 million 934 thousand registered users. Notably, renowned brands such as Swatch, Kärcher, PricewaterhouseCoopers, Radisson Blu Hotels, and LOT Polish Airlines are among SendPulse's esteemed clientele. With an estimated annual revenue of $12.2M, SendPulse continues to excel in empowering businesses to achieve their marketing goals.
What is SendPulse?
SendPulse is an automated marketing platform that enables businesses to communicate with their customers through various channels, including email, SMS, web push, and Viber. This versatile platform allows marketers to configure personalized communications based on customer actions, such as triggered emails. Additionally, SendPulse offers a free plan and provides 24/7 support, making it an invaluable resource for all marketers.
SendPulse targets a wide range of users, including businesses of all sizes, marketers, bloggers, and e-retailers. In particular, e-retailers can greatly benefit from SendPulse's solutions.
It can provide some valuable benefits for E-retailers:
Personalized Communication
SendPulse enables e-retailers to create highly personalized and targeted marketing campaigns. By leveraging customer data, e-retailers can segment their audience, send relevant product recommendations, and deliver personalized offers. This level of personalization helps to establish stronger connections with customers and enhance their overall shopping experience.
Increased Sales Conversions
With SendPulse, e-retailers can implement automated workflows and personalized email campaigns to nurture leads and guide them through the sales funnel. By sending timely and relevant messages, e-retailers can increase customer engagement and improve sales conversions.
Cart Abandonment Recovery
SendPulse offers tools to help e-retailers recover abandoned shopping carts. Automated email campaigns can be triggered to remind customers about their abandoned carts, offer incentives, or provide customer support. This helps e-retailers recapture potentially lost sales and boost revenue.
Transactional Messaging
E-retailers can leverage SendPulse's transactional email capabilities to send order confirmations, shipping notifications, and other important transactional messages. These automated and personalized messages enhance customer trust, improve post-purchase experience, and increase customer loyalty.
Customer Segmentation and Analytics
SendPulse provides advanced segmentation and analytics features that enable e-retailers to understand their audience better. By analyzing customer behavior, preferences, and engagement, e-retailers can tailor their marketing strategies, optimize campaigns, and make data-driven decisions to drive growth.
The features of SendPulse
SendPulse offers a diverse range of powerful features designed to elevate your marketing efforts. Let's explore some of the key functionalities that make SendPulse a comprehensive marketing automation platform.
Email campaigns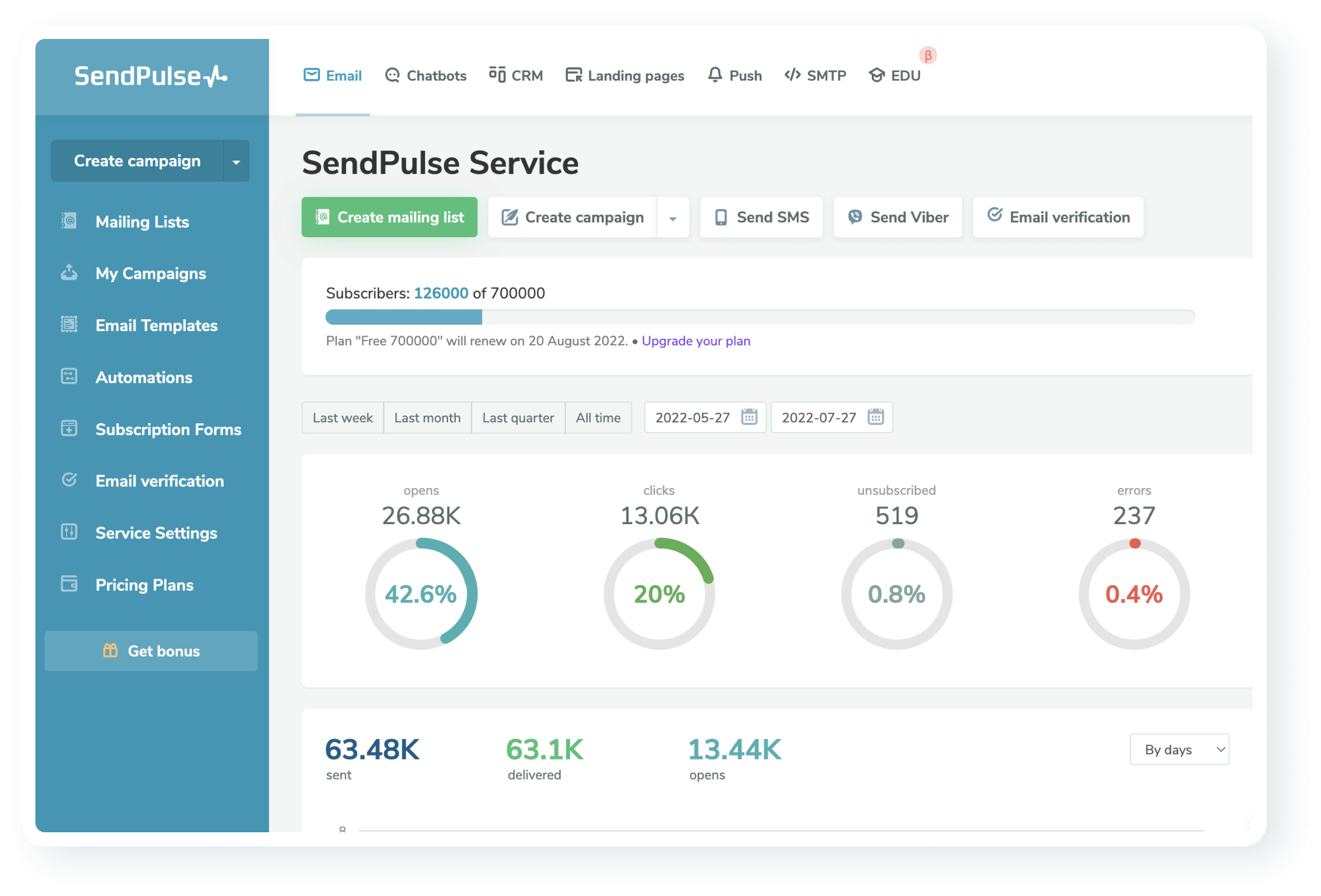 SendPulse offers powerful email marketing tools with creative features. With SendPulse, you can send up to 15,000 emails per month for free. The key features include:
Drag and Drop editor:

Easily add images, text, or videos to your emails and customize their size, color, and style, all without requiring coding skills.

Subscription forms:

Build subscription forms and place them on your website to collect email addresses and other information from your visitors. Choose from pre-designed templates or create your own form to match your brand. Options include embedded forms, pop-up windows, floating forms, and fixed forms.

Transactional emails:

Send automated transactional emails such as subscription or booking confirmations, order updates, and notifications. Use SendPulse's SMTP or API to send up to 12,000 emails for free.

Email campaign analytics:

Track subscriber engagement, analyze results, and test changes using reports and graphs.

Email verifier:

Improve deliverability rates by verifying email addresses on your mailing lists. Remove non-existent and typo-ridden email addresses, ensuring clean mailing lists, high sender reputation, and avoiding spam folders.
SendPulse's email campaigns empower e-retailers to create visually stunning and highly engaging email marketing campaigns. With features like a drag-and-drop editor and extensive personalization options, e-retailers can craft compelling messages that resonate with their target audience, resulting in increased click-through rates, conversions, and customer loyalty.
CRM
SendPulse's CRM (Customer Relationship Management) tool allows you to effectively manage your sales process and communication channels in one place. With CRM, you can:
Store all customer information in a centralized location.

Distribute deals and track their progress.

Streamline your sales and manage your marketing and sales processes.
SendPulse's CRM system enables e-retailers to effectively manage customer relationships throughout the sales cycle. By centralizing customer information, tracking interactions, and automating sales processes, e-retailers can provide personalized experiences, deliver targeted promotions, and drive repeat purchases, leading to improved customer satisfaction and revenue growth.
Landing page builder
Create websites, landing pages, and online stores using SendPulse's website builder. The landing page builder offers the following features:
Create a unique and responsive website design.

Add multi-channel subscription forms.

Accept payments directly on your website.

Monitor SEO performance and analytics with easy integration with Google Analytics.
With SendPulse's landing page builder, e-retailers can easily create captivating landing pages to showcase their products and drive conversions. The intuitive interface, pre-designed templates, and seamless integration with other SendPulse features allow e-retailers to optimize their landing pages for maximum impact, capturing leads, and driving sales.
Chatbot Builder
Set up auto-replies and create sales pipelines on Instagram, WhatsApp, Viber, Facebook, and Telegram using the visual chatbot builder. SendPulse's chatbot builder allows you to:
Reduce your workload for everyday tasks.

Provide 24/7 support.

Close sales.

Build and manage messenger marketing on multiple channels.

Streamline your communication with customers.
SendPulse's Chatbot Builder enables e-retailers to automate customer interactions and provide personalized support across various messaging platforms. By leveraging chatbots, e-retailers can engage with customers in real-time, answer queries, recommend products, and even process orders, creating a seamless and efficient shopping experience that increases customer satisfaction and drives sales.
SMS campaigns
Reach out to your customers at the right time with SendPulse's SMS campaign tool. Key features include:
Segment recipients and personalize messages using variables.

Handpick recipients to strengthen the quality of your SMS campaigns.

Automate communication with customers, such as sending balance replenishment, birthday discounts, sign-up confirmations, and order status notifications.
SendPulse's SMS campaigns offer e-retailers a direct and immediate channel to reach customers. With personalized SMS messages, e-retailers can send time-sensitive promotions, order updates, and exclusive offers, effectively driving customer engagement, boosting sales, and fostering customer loyalty.
Web push notifications
SendPulse's web push notifications allow websites to send messages directly to subscribers' browsers. Features include:
Automatic notifications about sales, new products or content, critical updates, and events.

Compatibility with major browsers like Firefox, Chrome, and Opera.

Free to use with a simple account setup.
SendPulse's web push notifications allow e-retailers to deliver real-time updates and personalized messages to website visitors, even when they are not actively browsing. By leveraging this non-intrusive communication channel, e-retailers can re-engage visitors, promote new products, and drive repeat visits and purchases, resulting in increased website traffic and revenue.
Smart pop-ups
With SendPulse's smart pop-ups, you can convert website visitors into subscribers and customers. Features include:
Choose from a variety of layouts in SendPulse's template gallery.

Set up pop-ups quickly, tailored to any event or activity.

Choose from overlay, floating, horizontal, video, modal window, or online chat widget formats.

Collect leads in SendPulse's CRM and analyze results.

Tailor communication with customers using display conditions based on their actions on your website.
SendPulse's smart pop-ups help e-retailers capture visitor attention and convert them into subscribers and customers. By leveraging targeted and customizable pop-ups, e-retailers can offer exclusive discounts, collect contact information, and guide visitors towards making a purchase, effectively increasing lead generation, boosting conversions, and growing their customer base.
Automation 360
Automation 360 allows you to manage eight marketing channels, including email, SMS, web push, and chatbots on Facebook Messenger, Instagram, Telegram, and WhatsApp. Key features include:
Set up events and conditions to send messages.

Visualize each sales pipeline stage.

Track conversions and gain detailed performance statistics.

Automate contact progress down the sales pipeline with little or no employee involvement.
SendPulse's Automation 360 empowers e-retailers to automate their marketing efforts across multiple channels, ensuring timely and personalized communications. By setting up automated workflows triggered by specific events, e-retailers can deliver relevant product recommendations, abandoned cart reminders, and personalized offers, enhancing customer engagement, driving conversions, and maximizing revenue potential.
Support from SendPulse
SendPulse provides 24/7 support to its customers. You can reach out for assistance using the live chat feature on the website, available in English, Portuguese, Spanish, Russian, and Ukrainian. Additionally, you can contact SendPulse professionals via phone. The company also offers comprehensive support through various resources:
Knowledge Base: Access guides and tutorials to learn more about using SendPulse effectively.

How-To videos: Watch video guides to gain a deeper understanding of SendPulse's features.

Glossary: Explore the extensive list of business and marketing terms in SendPulse's glossary to enhance your understanding of relevant concepts.
SendPulse Pricing
SendPulse offers a range of pricing options based on the selected services. Monthly and pay-as-you-go billing options are available.
While pricing varies, SendPulse remains competitively priced compared to its counterparts. Notably, the free plan allows users to send 15,000 emails to 500 subscribers per month.
To explore the pricing options specific to your requirements, visit the SendPulse website.
Conclusion
In conclusion, SendPulse is an indispensable tool for internet marketers and online business owners seeking to increase conversions, boost revenue, and improve customer engagement. By automating marketing campaigns, leveraging multiple channels, and utilizing features like web push notifications and chatbots, businesses can achieve remarkable results. With its affordability and free package, SendPulse is a worthy investment for any e-commerce enterprise especially for E-retailers. Harness the power of SendPulse's capabilities to drive sales growth, enhance customer retention, and elevate your marketing efforts to new heights.
Discover how SendPulse can revolutionize your marketing efforts and elevate your customer engagement. Click the button below to connect with SendPulse and unlock a world of personalized marketing solutions tailored to your unique needs.